To optimize the work and the visualization of information, we created two very important tools which you can access in the Navigate tab. They are View Columns and View Tools. These tools are available only when you are using list view.
The View Columns tool allows you to select the columns you want to keep visible on your work page. Some columns, such as Date Created, Date Closed and Last Updated, will be hidden by default, but you can turn them on for viewing at any time.
On the other hand, the View Tools option offers the possibility of obtaining a little more space in the visualization of the topics, allowing to hide the Search bar and Group by bar elements.
So you can choose to hide one of them or hide both and the result will be immediate.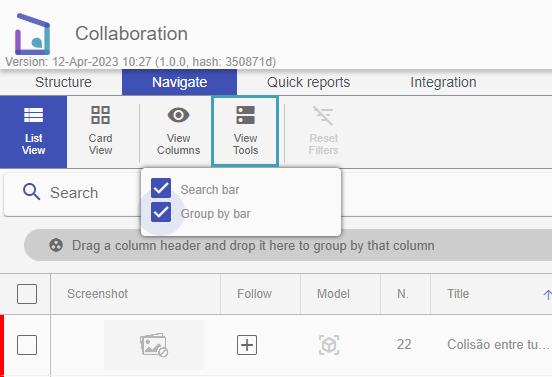 In the image below, the Search bar and Group by bar elements have been hidden. Notice the difference.
Keep in mind that customizations made to any tool will not be saved if you exit Collaboration or refresh the page.