All new users registered on BIMWorkplace already have a predefined set of notifications per Workplace and per Project, however, at any time, the user can adjust them according to his needs.
All you have to do is go to User Settings and go to the Workplace Notifications and Project Notifications tabs.
In the first column, you will find the description of the notifications, that is, what you will be notified of, and you have two options for receiving them: email or cloud.
If you choose to receive by Email, you can define the frequency with which you want to receive the information, being able to receive it immediately, daily, weekly, monthly. If you prefer, you can also choose to never receive email notifications.
If you choose to receive in the cloud, you have the option to enable or disable the notifications. Notifications received in the cloud will generate an alert in the menu bell.
The last six notifications received in the cloud will always be available. By clicking on the bell, you will have the option to mark the visible notifications as read, mark all notifications as read, or access the notification history.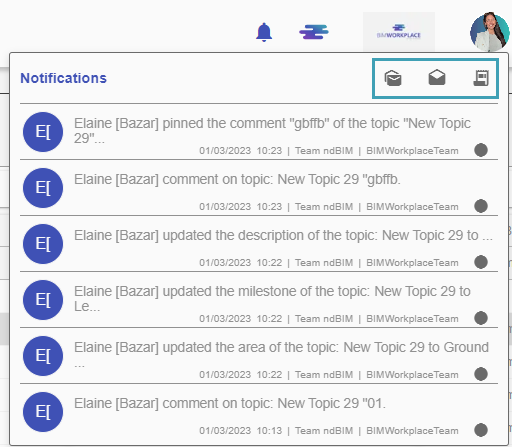 In Notifications History the user will consult all activities notified in the cloud. Notifications will always show the action performed, and in which workplace and project it was performed, as well as the date and time.
Finally, the user can also use advanced filters to find a specific notification by project, by users, by modules, and even by exact dates.