This space concerns the place where the models will be organized and loaded to be federated in the viewer. These templates can be organized in a folder structure.
1 – Click on the first icon in the right sidebar, give the new folder a name and click on New Folder to confirm. In the example below, the folders were created by disciplines, but you can do it in the way that is most convenient for you.
To edit folders, double-click on the folder name and add the new name.
2 – In the Uploads tab, drag your model or click on the cloud image to select it from your computer.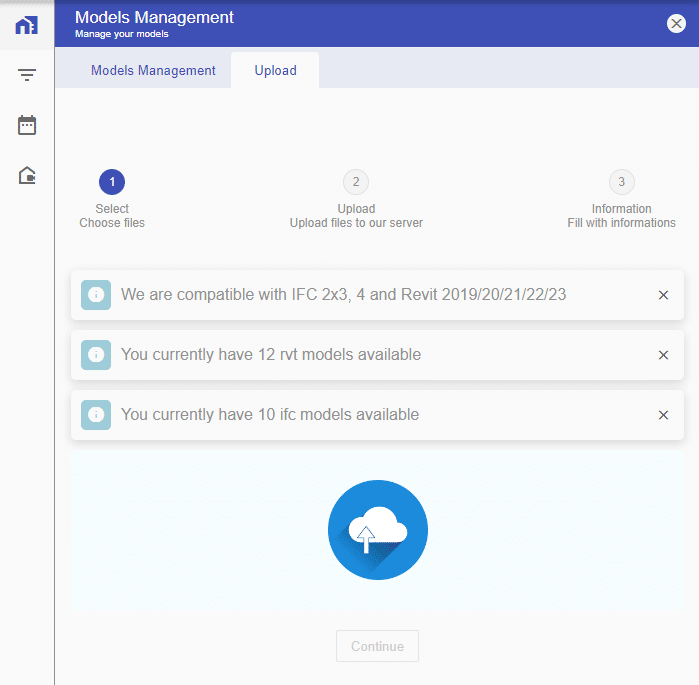 Valid Formats – BIMWorkplace supports models in .IFC 2×3 and 4 format as well as models in .RVT 2019, 2020, 2021, 2022 and 2023 format.
Model uploads in .RVT and .IFC format are managed by packages purchased when purchasing a subscription. In this tab you will find the balance of available uploads in this project, where 1 upload equals 1 template.
If you don't have uploads available, communicate directly with the project and workplace manager so that the necessary uploads can be assigned.
3 – When adding your model(s) to the loading environment, they will go through a validation process:
4 – After the validation process, you must fill in the fields corresponding to the model to be imported. The fields refer to:
Model – you should choose between "New Model", or if it's a second version of a model, he must choose which model this new version refers to.
Folders – should select the folder created in Models Management, to store the model.
Phases – should select which project phase this template corresponds to.
File format version – should inform which version of the loaded file (.IFC 2×3,4 or .RVT 19/20/21/22/23).
Version – should inform which version of the model is being loaded.
Next, you need to click Import to start loading the model. You will be directed to the Models Management menu to track the loading progress.
5 – After the upload is complete, you will have to select the model version in the blank field and finally activate the desired view (Information or Model view) and confirm in Apply.
Notes: